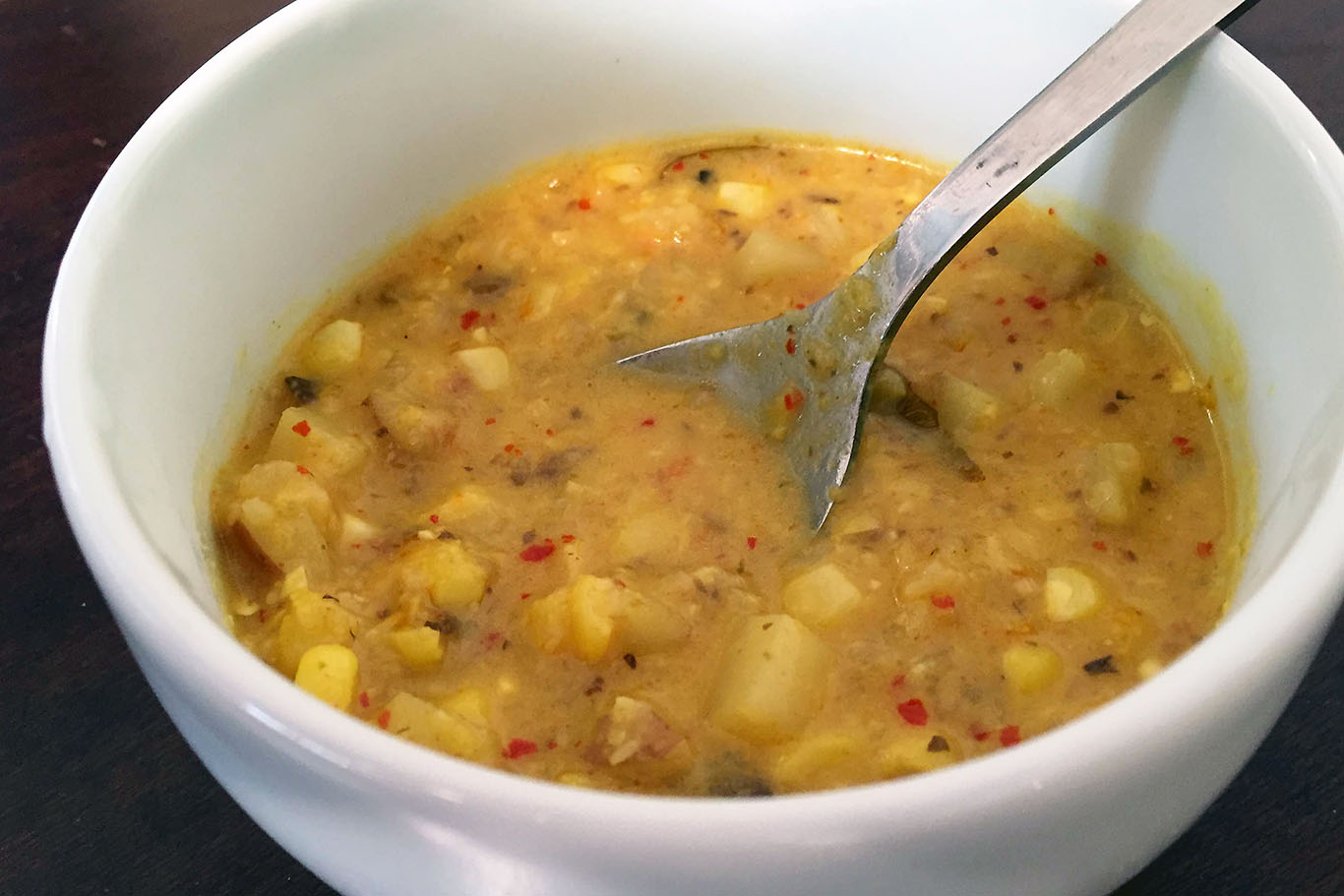 How do you make a hot summer soup that is hearty enough to be a meal but not siesta inducing?  This question and a picture of a chef shaving off kernels of corn in Ottolenghi's Plenty serve as the inspirations of this soup.
I wanted the soup to be served hot and highlight the sweetness of fresh-off-the-cob corn.  At the same time, some potato would add substance and body to the soup.  I decided to use two lonely mushrooms in my fridge to add some umami flavor.
I am very happy with how the soup turned out and would definitely make it again. If you don't have all the spices, you can experiment with flavors that you have in your own pantry.
The only thing I would change for next time would be to leave out the buttermilk.  The corn and potato bring plenty of flavor and vegetal creaminess.  This soup would be nice to serve with chips and fresh guacamole.
<h2>Curried Corn and Potato Soup</h2>
Serves 3
2 ears of corn, shucked
2 small red-skinned potatoes, scrubbed well and finely diced into 1/4 in. thick pieces the size of corn kernels.
2 mushrooms (optional), finely chopped
1 clove of garlic finely chopped
1 small yellow onion, finely chopped
10-20 fresh curry leaves (you'll need less if you're using fresh leaves and more if you are using frozen leaves)
3 Tbs vegetable oil
Tiny pinch asafoetida (optional)
1/2 tsp salt or to taste
1/2 tsp chili powder or to taste
1/2 tsp turmeric
1 tsp garam masala
1 cup buttermilk (optional but I'd probably omit next time)
Heat oil over medium high heat in a wide frying pan that will be deep enough to hold all ingredients.
Add the asafoetida and curry leaves to release the flavors of these spices.
Add onions and cook for 5 minutes until translucent.  Then, add mushrooms and potatoes.  Stir occasionally.  Cook for another 5-7 min.
While the other ingredients are cooking, use a sharp knife to shave kernels off the cobs of corn.
Check a piece of potato.  It should be relatively soft but may have a little bite.  Add the garlic and reduce to medium heat.  Cook for 1 minute.
Add corn kernels, salt and spices and fry for another 3 minutes.
Stir in 1/2 cup of water and cook for another 10 minutes or until the potatoes have cooked through.  If you are adding buttermilk, reduce heat to low and heat until the buttermilk has been warmed through.
If you want a very pretty soup, you can remove all the curry leaves at this point.  Add half the solids to a food processor and blend to a paste.  Add this paste back to the soup and stir until the soup is evenly thickened.  Add water if you wish to thin out the soup more.  Reheat if the soup has cooled.
Divide the soup among 3 bowls and serve.  You can garnish with fried curry leaves if you'd like.
* Confession – I've never actually had chowder but recalling from memory, many seem to have potatoes and corn.