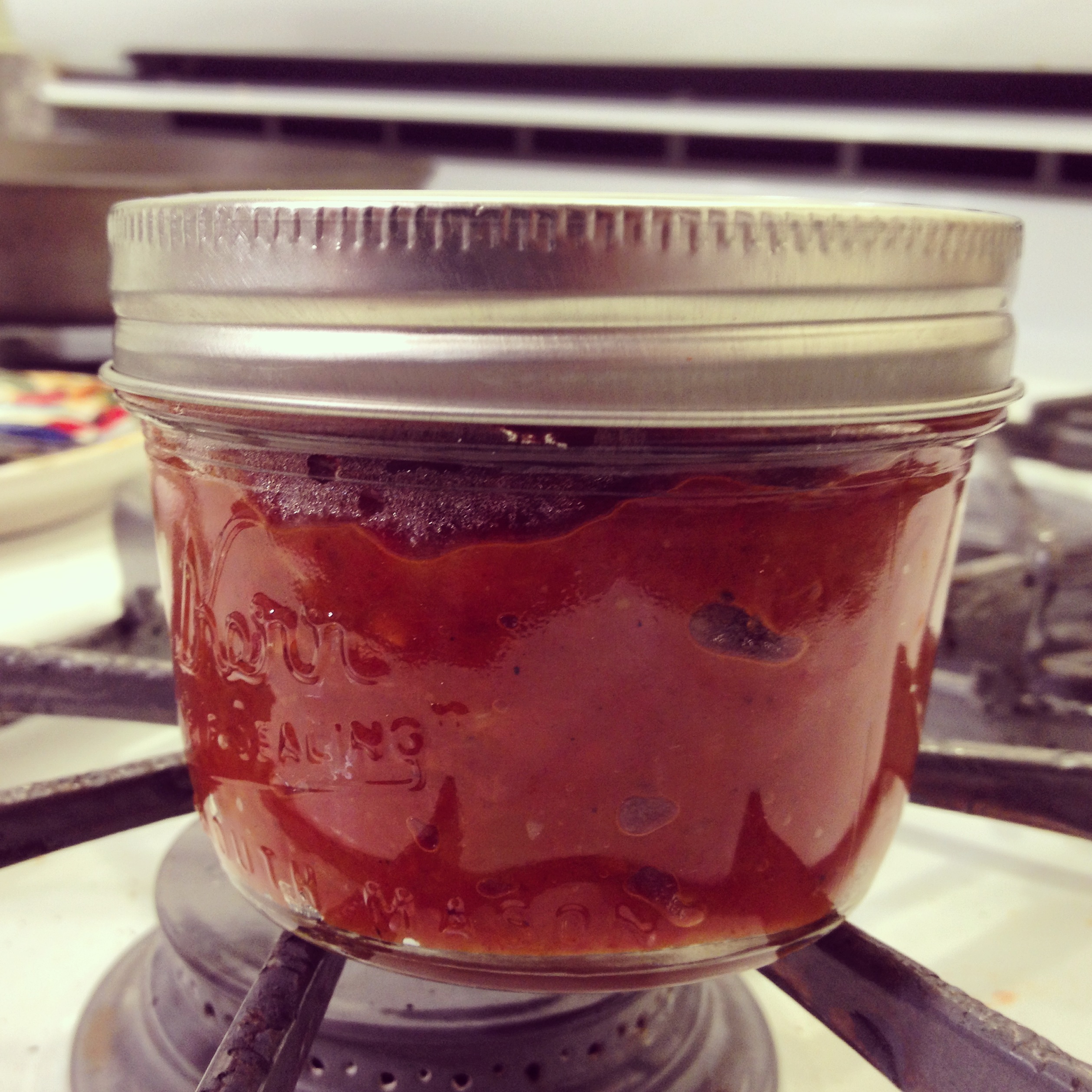 One of my favorite part of the summer are all the tomatoes at the farmer's markets.  Living in San Francisco, I'm incredibly spoiled — I have a small farmer's market  3 blocks from my house and a larger market only a 5 min drive away.
Last year, I bought Sheri Castle's The New Southern Garden Cookbook from A Southern Season in Chapel Hill.  The book caught my eye given how vegetarian friendly it is for a Southern cookbook.  What I really like about this book is how Sheri Castle mixes traditional recipes with modern revisions of recipes.
My favorite recipe in the book is her tomato jam recipe.  Last year I made two batches and a couple weeks ago, I made a double batch and put half in the freezer for later in the year.  This tomato jam is DEELICIOUS and it's a good condiment to have on hand.  I've had it schmeared on hunks of sour flour bread with fancy cheese, as a replacement for achaar as a condiment with Indian food, as a topping for crumpets and alongside Greek-style fava.
Tomato Jam (adapted from Sheri Castle's The New Southern Garden Cookbook)
(time required:  a morning or an afternoon although borrowing a friend will reduce prep work time)
(yield – 5ish cups)
10 cups peeled, seeded and chopped plum tomatoes**
4 tablespoons extra-virgin olive oil
1/2 cup finely chopped onion
1/4 cup peeled and grated fresh ginger
4 garlic cloves finely chopped
1 1/2 Tbs chai masala*
1 tsp cumin powder
1 jalapeno chopped (adjust to taste)
1/4 tsp cayenne pepper
1/2 cup sherry vinegar
1 cup packed light brown sugar
2 tsp kosher salt
1/4 tsp ground black pepper
1/2 cup honey (can be omitted to be vegan)
4 Tbs lemon juice (around 1 1/2 lemons)
* I use a homemade chai masala based on Tarla Dalal's recipes but if you don't have chai masala, use a mix of cinnamon, cloves and allspice.  I'm sure a little pumpkin pie spice would probably work in this scenario
** I accidentally used heirloom tomatoes which was a bad idea.  While they have a lot of flavor, they're really watery so they're not good for making jams.
To peel your tomatoes, slit tiny x's (just enough to pierce the skin) into the bottom of whole tomatoes, put them in boiling water for a few seconds and then put them in a bowl of ice cold water for a few seconds.  It should now be much easier to peel them.
Heat the oil in a large saucepan over medium heat.  Add the onion and cook, stirring occasionally until the onions are soft and translucent, about 5 min.
Stir in the ginger and garlic and cook for 1 minute, stirring.
Add all the spices and cook for 1 minute, stirring.
Add the tomatoes, salt, brown sugar and vinegar to the pot.
After the ingredients have come to a gentle boil, reduce the head to medium low and cook until most of the water has evaporated and the mixture is thick and jammy.  For me, this took about 3 hours which was spent cleaning up and reading cookbooks.
Stir in the pepper and honey and boil until the jam is shiny — about 2 minutes.
Let the jam cool to room temperature, stirring occasionally.
Transfer the jam into clean glass jars with tight fitting lids.  The jam will keep a couple months refrigerated and up to a few months if frozen.