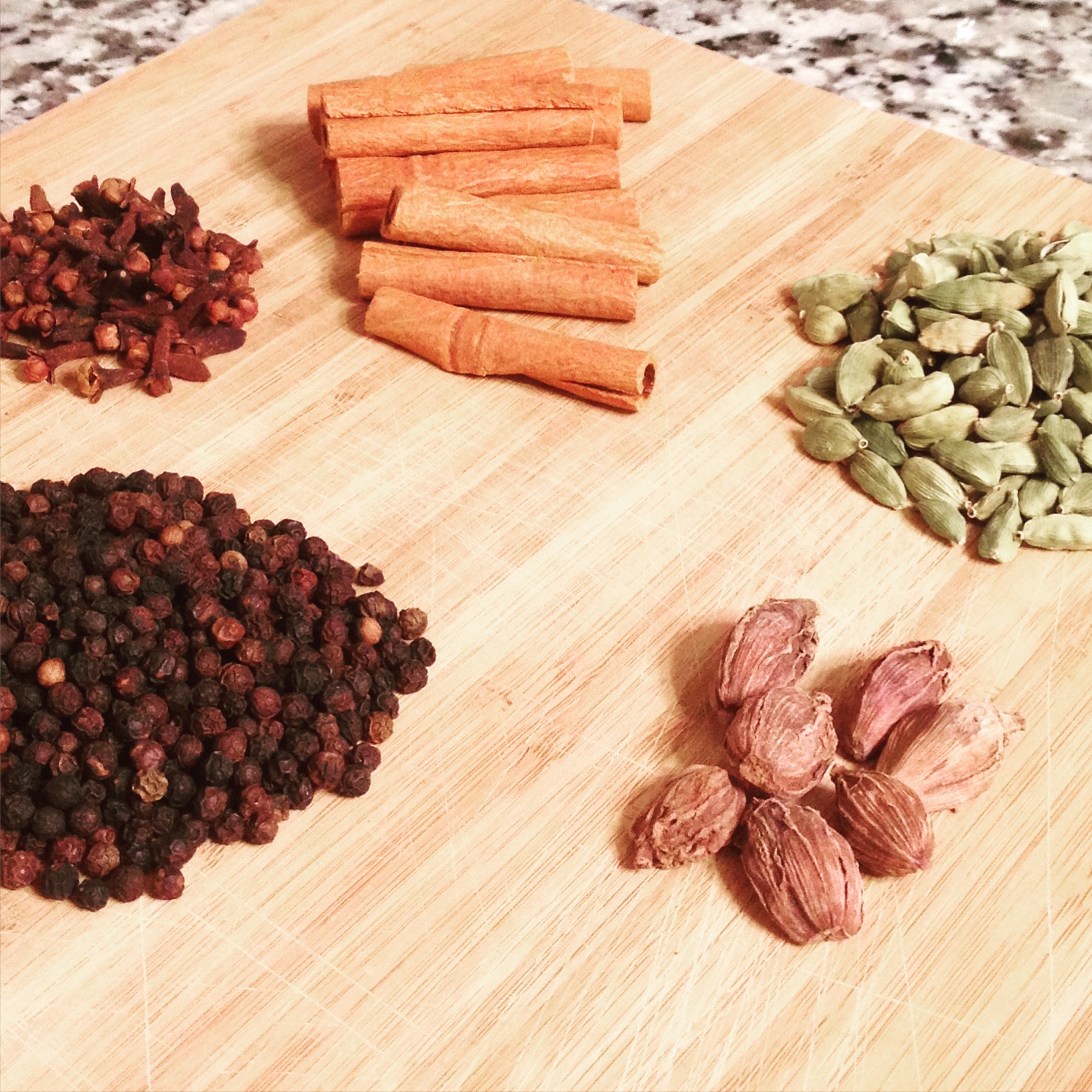 Do you ever have days that unexpectedly keep getting better?  The other day, a good friend texted me to ask if we could grab dinner that night since he had to bail on my birthday dinner for a most awesome reason – his girlfriend was surprising him that weekend by flying across the country to California and taking him to Napa!
Alongside another one of my friends, we went to Curry Up Now where we had guacamole sev poori, naughty naan, sexy fries and CHAI!
Any restaurant that serves their chai with Parle G biscuits has a special place in my heart.  In addition, the chai was objectively good with an emphasis on the black tea and the spices.
If you like your chai redolent with spices like I do, one of the best things is making your own chai spice mixture from fresh, whole spices.  I made mine from a recipe from the grand doyenne of Gujarati food herself, Tarla Dalal which I highly recommend.*
Beyond beverages, I have added chai spice in tomato jam and sprinkled into the dough of fruit cobbler.  It would be nice added to a cream cheese frosting for carrot cake or even as a replacement to pumpkin pie.  I gave out half of the spice mix I made to different friends and some commented that while the chai masala was being transported from meet-up place to home, it served as a lovely temporary purse freshener.
1/4 cup cinnamon, cut into small pieces
1/8 cup cloves
1/4 cup black peppercorns
1/4 cup cardamom
6 black cardamoms
1/4 cup mace, broken into pieces
1/2 nutmeg, grated
1/4 cup dried ginger powder
(*A few notes/adaptations from me – I used closer to 1/6 or 1/5 of a cup of dried ginger because I prefer to grate fresh ginger into chai.  I also used less mace because it is expensive.  For cinnamon, I used cassia cinnamon instead of ceylon)
Roast the cinnamon, cloves, black pepper, cardamom, and black cardamom for 7 to 8 minutes in a cast iron stove or tava over medium heat.
Cool completely.
Add the mace, nutmeg and ginger powder and grind to make a fine powder.
Cool completely and store in an air-tight container.
*  Historical factoid about Tarla Dalal:  When my mom married my dad many years ago, she brought some of Tarla Dalal's cookbooks from India to the States.  As a grownup, when I moved to my place in San Francisco, I bought a few myself.